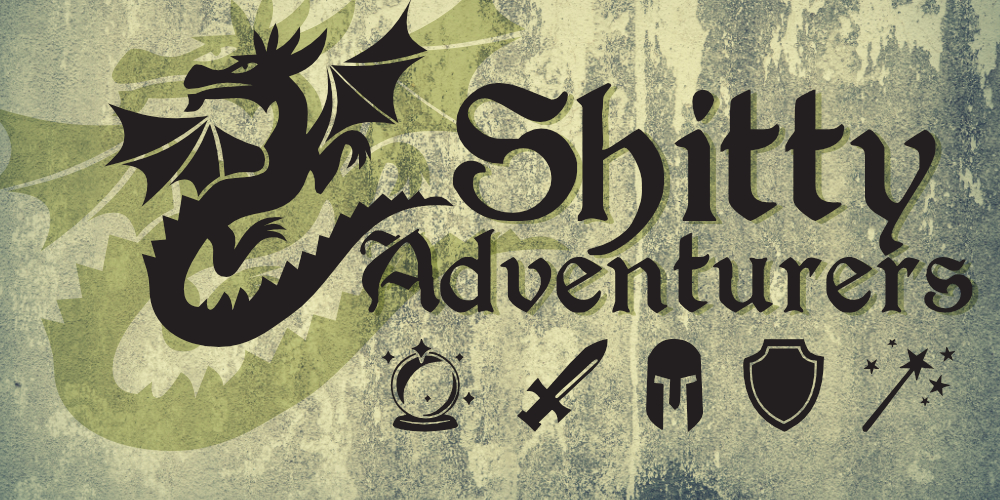 Shitty Adventurers
There are heroes, and then there's us...
You are an adventurer seeking fame and fortune. You aren't very good at it. In fact, you're pretty terrible. How you've survived this long is a mystery; how the town hasn't run you out yet is a miracle.
You and your fellow shitty adventurers know you only have each other, so you try your best to work together, survive, get paid, and make sure tales of your deeds are greatly exaggerated.

In Shitty Adventurers, you do your best to overcome your short comings. You half-ass your way through dungeon and adventure and do your best to make your patron happy! You just hope you can keep outrunning the bad luck that chases after you, and cash in on that hard earned good luck every once in a while...

The Inspiration!
This game is a direct hack of the fun Shitty Ensigns. We pull away from space and come down to a fantastical setting full of magic and adventure, but just as much silliness and hijinks!

The Rundown!

Rules-lite, great way to introduce folks to TTRPGs or for veterans when a game falls through and you want to still play!

Based on PbtA, but extremely stripped down and simplified

Meaningful narrative progression, watch your character grow and struggle and somehow many not even become an ACTUAL adventurer???

Low-prep, great for intuitive Game Moderators or new ones!

Version 1.0!
SHITTY ADVENTURERS is currently being playtested. The game will launch at a lower price to reflect this, but getting it early will help support me and ensure you get the final version of the game without having to pay more later!
Even in it's current state, this game is a lot of fun, highly playable, and a blast with friends and would-be friends!
Purchase
In order to download this game you must purchase it at or above the minimum price of $12 USD. You will get access to the following files:
Shitty Adventurers V1.0.pdf
188 MB
Shitty Adventurers PlayKit V1.0.pdf
108 kB
Community Copies
Support this game at or above a special price point to receive something exclusive.
Community Copies
Each copy of SHITTY ADVENTURERS you buy helps someone else grab a free copy if their budget doesn't enable them to pay the listed price. If you're unable to budget for a copy of SHITTY ADVENTURERS priced as listed, please claim one of these free copies for the community.