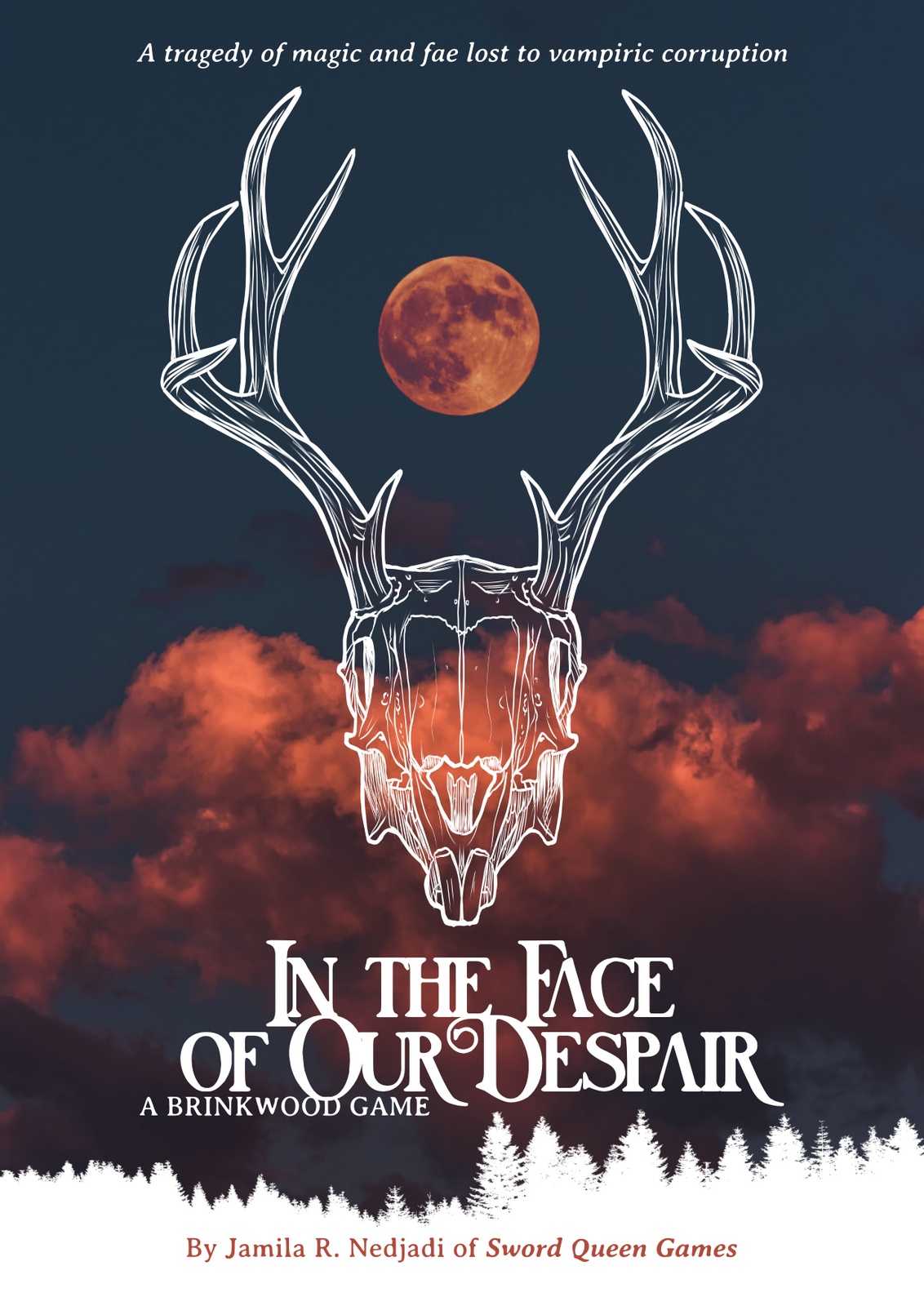 In The Face Of Our Despair
IN THE FACE OF DESPAIR is a collaborative storytelling game about a group of fae guardians fighting a doomed war in a forest that falls to vampiric corruption.
This game tells the story of the physical and magical corruption of the fae guardians as they lose more of their territory to the vampire lords. Their battle will ultimately bring them to the heart of their home, where the Lord of the Forest resides. Should they survive this long, this is where they will make their last stand against the vampires and their twisted servants.
This is not a hopeful story of magical beings successfully fighting off the invaders and saving their home. All they are doing is trying to buy enough time for survivors to leave behind the forest, to preserve what little magic they can. In hopes that one day, generations from now, others will rise against these vampire lords and destroy them.
This is a story of horror and desperation, of doomed protectors meeting tragic ends. It is very likely that all the fae guardians will die, be corrupted and enslaved by the vampirism, or—at best—be permanently scarred and haunted as they stay on the run and hide away in the darkness.

This is a living game. Currently there are two incursions (adventures) included in Version 1.0, The Mirrored Darkness and The Disease of Time. In total there will be at least 5 more incursions.

If you purchase the game now, you will receive all updates for free, and will not have to pay when the game increases in price.
This game is Rooted in Trophy, and uses the lightweight, narrative-rich, and collaborative mechanics of the game TROPHY DARK.

Very little prep is necessary, Incursions are very easy to run. High replay value!
This is a fangame, but it's also a game that stands well on its own. It was made with love for Brinkwood: The Blood of Tyrants. In The Face Of Our Despair can be played as a prologue, or played through out a campaign as flashbacks. In the game of Brinkwood, brigands use ancient masks of Fae power to rise against their vampire oppressors and build a rebellion. In The Face Of Our Despair is the story of how each of these magical masks came to be, and the tragedy inherent in each one.
Would you like to play Brinkwood and help playtest this game? Please consider joining us at the Brinkwood discord server!

Purchase
In order to download this TTRPG you must purchase it at or above the minimum price of $10 USD. You will get access to the following files:
In The Face Our Despair V1.0.pdf
66 MB
Community Copies
Support this TTRPG at or above a special price point to receive something exclusive.
Community Copies
Each copy of In The Face Of Our Despair you buy helps someone else grab a free copy if their budget doesn't enable them to pay the listed price. If you're unable to budget for a copy of In The Face Of Our Despair priced as listed, please claim one of these free copies for the community.
Comments
Log in with itch.io to leave a comment.
how does this relate to the 'Brinkwood:Despair' game on the Brinkwood Kickstarter pre-orders page?
hi! this is the version of the game that came out before the Kickstarter. It has two Incursions (the story of two of the Masks) and is incomplete.
I'm working on the final version (which will include an Incursion for each Mask), and Kickstarter backers will get it first. The Kickstarter is also the only way to get a physical copy of the game :) I hope that answers your question!
I love prequel games! This is such an exciting premise - the combination of the Trophy Dark mechanics and the Brinkwood settings sounds incredible!
And it even comes with a google sheets character holder so I don't have to make one myself in order to run online 😏
Any chance for a singles formatted file?
Thank you so much! Prequel games are so cool so I wanted to try it 😭❤️✨
Oooh yeah I can put together a single page version, absolutely!
That would be so cool. Thank you!
Any news on a single page version? When I went to download there was only a spread version.