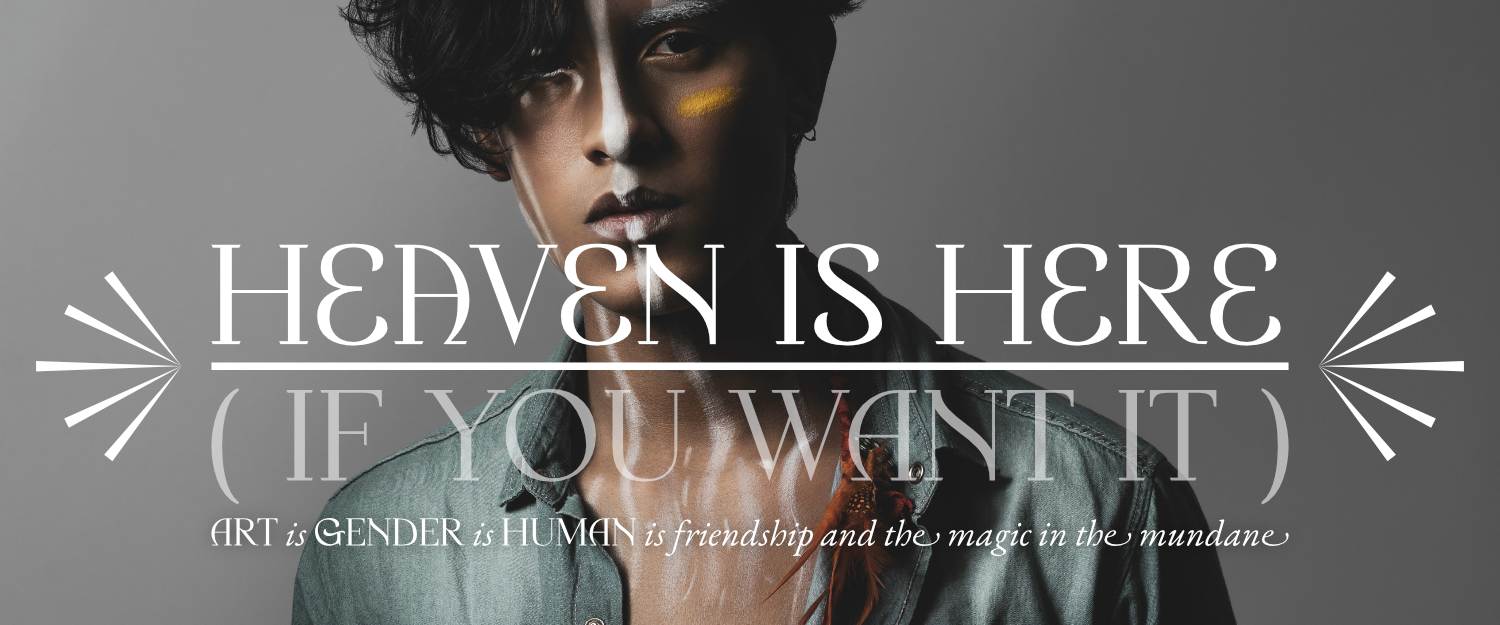 Heaven Is Here - Alpha Edition

Heaven Is Here (If You Want It) is inspired by the album Dance Fever by Florence + The Machine. This game is a reaction to the music, but it's also an invitation I offer you.
This is a game that is deeply stepped in magical surrealism, it is desperately mundane, it is laughter in a coffee shop, and sacrifices made to the moon. It is friendship bound up in art, in gender, and what it means to be human.
This game uses the Belonging Outside Belonging system, which encourages collaborative storytelling with simple rules.

If you're interested in learning more, you can read about it here.


This version of Heaven Is Here (If You Want It) is a version of the game that requires playtesting and further development. Any interest, support, and constructive feedback for the game will help development! Any future versions of this game in PDF form will be available to those who buy now.


You are artists, people made of many layers caught up in entanglements with one another. You are magical beings, because to create art is to create magic. Art is expression and creation, tied intimately with who you are and who you wish to be. Discover what inspires you and what holds you back. What does your art mean to you? How do you feel about the art others create? What new forms of inspiration will you uncover?

Your gender is a beautiful and fluid thing, it is both who you are now and who you ache to be. Your gender could be a blade held in the hand, a forbidden prayer whispered before a kiss, a moth enveloped in darkness unyielding, among a myriad of others. Gender in this game is ever shifting. It is connected to the art you make and the people you love.
Currently there are four playbooks, which are:
THE KING - A discarded child of the gods, they bear a

crown

and

sword

that
they wield with violence


THE DANCER

- A haunted artist of frenzy, their

song

and

dance

moves them and others to

lose control



THE ORACLE - A domesticated god, bound to their

torture

and

fate

that invites

horror




THE DEVIL

- A fallen angel, their interchangeable

persona

and

truth

is a tool of

malicious revelation

You are larger than life characters, driven by art and the magic inherent in who you are. Explore your relationships and art through Moments, structured by simple mechanics to create intimacy and quiet revelation.
Currently there are four moments, which are:
A SHARED MEAL

- a gathering centered around food and connection



THE FULL MOON RITUAL - a magical time steeped in the mundane

THE CHILD'S GAME - a spontaneous time to reclaim the child within
KISSES IN THE DARK - a time of intimacy and vulnerability
Purchase
In order to download this game you must purchase it at or above the minimum price of $7 USD. You will get access to the following files:
heaven is here - alpha 1.0.pdf
173 kB
Exclusive content
Support this game at or above a special price point to receive something exclusive.
Community Copies
Each copy of HEAVEN IS HERE (if you want it) bought helps someone else grab a free copy if their budget doesn't enable them to pay the listed price. I also add a free copy for every 5 star rating here on itchio!
If you're unable to budget for a copy of HEAVEN IS HERE (if you want it) priced as listed, please claim one of these free copies for the community.
Comments
Log in with itch.io to leave a comment.
May I ask what numbers of players this game is intended to be played with?
Hi! It can be played with as few as 2 players and up to 4 (since that's the number of playbooks we have at the moment!)
Since it's still early playtesting days I can't yet say what the "recommended" number is, but most games like this one play nicely with 2-4 players.